Where to get best knee replacement surgery in India?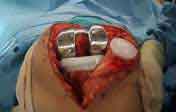 If you are planning to get your knee replacement surgery done in India, one might consider going to best knee replacement surgeon in India Dr Gurinder Bedi clinic. He is the best orthopedic consultant, currently working in Fortis Hospital, New Delhi.

He has gained an extensive experience in almost all aspects of orthopedic surgery. He has served his experience in the University hospitals of UK, and has solved many complex orthopedic problems. He has followed his fellowship training program in knee surgery from Gloucester-UK.

At his clinic in Delhi, he has soughted most complex surgeries with complete medication, recovery and rehabilitation program. He makes sure that every surgery proceeds and complete with precision. He put his best efforts in advising patients with complete treatment care and preventive measures to be taken.