Where can I get best doctor for knee replacement surgery in India?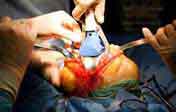 1There are many surgeons in India known for their specialized approach in Orthopedics. Dr. Gurinder Bedi is considered one of the best doctor for knee replacement surgery in India. He has over 20 years of rich experience, with the expert knowledge of joint replacement, arthroscopy and trauma. He has started practicing as a specialized consultant for orthopedic surgeon in New Delhi, after returning from UK University.

He has gained extensive experience for over 11 years at UK University Hospitals. He has also been enrolled into advance fellowship program for knee surgery, hip surgery and of deformity and trauma reconstruction. Knee problems seem to be most common that he deals with his practice.

He has the ability to empower his patients by advising them both surgical and non-surgical options for their ailments. He aims to provide full care plan for the patients that include Rehabilitation, Physiotherapy advice, Medication and other operative options.