What conditions are treated under arthroscopic surgery? Know more about arthroscopic surgeon in Delhi?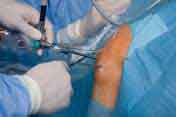 Cartilage damage, Rotator cuff tears, Carpal tunnel syndrome, Synovitis and Ligament tears are some of the conditions that are subjected to arthroscopic intervention. The cases are associated with injury as well as include wear-based inflammation.

While examining any joint, shoulder, elbow, wrist, hip, knee, and ankle, the complete treatment is planned accordingly. Our team at Dr G Bedi clinic takes into account a number of factors that include condition, severity and location.

Dr G Bedi is one of the prominent orthopedic surgeons in Delhi with the specialization in Arthroscopy of injuries of joints. The whole procedure is performed with less painful techniques without requiring an overnight stay. Excellent rehabilitation program is initiated by arthroscopic surgeon to speed up your recovery and protect future joint functions.
Click Here For More Details of Arthroscopy Treatment in Delhi.