Hip Joint Replacement Surgery in India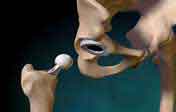 India has always been a popular destination when it comes to affordable treatments offered by top medical centers here. World-class medical care and excellent facilities have attracted patients from all over the world.
Considering that a surgery for hip joint replacement would cost 80% less in India compared to many foreign countries, it can save you from getting a big hole in your pocket. In addition, the procedure here is processed within a short span of time.

In India, a large number of patients is registered every year to get their hip and other joint replacement surgeries. Apart from huge savings on their high-quality treatment here, they also experience personalized care. Usually, the required hospitalization during treatment remains between 5 to 7 days.

High-grade physiotherapy and rehabilitation services have provided to the patients, during the recovery period, which goes as long as six weeks or more.

The hip replacement surgery has become the most reliable operation with best joint replacement surgeon in India. With minimal risks, the surgery has shown marked reduction in joint pain, thus enhancing the overall quality of life. Advancement in technology, use of high-grade implants and great expertise has helped patients with faster recovery and improved mobility.